There are many classic patterns in home textiles, the following are various classic patterns in home textiles:
1. Inspired by retro flowers. We bring our dream household products series into life to celebrate the coming of spring with flower patterns, retro colors of the 1970s and soft linen. Although it is a retro flower style, it feels friendly to the elderly. At the same time, it also has a visual and aesthetic impact on the young. This pattern of home textile is full of freshness. There is a saying that the classics will be handed down forever and will not be forgotten.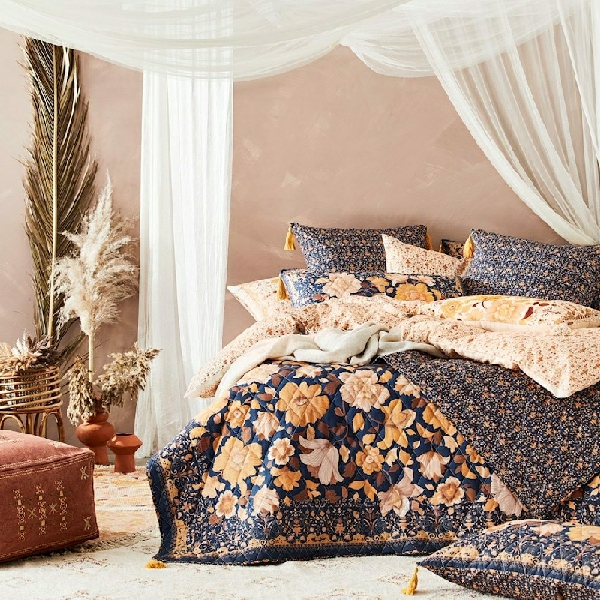 2. This series is characterized by bold and dreamy decals. Its cotton and hemp appearance and comfortable touch can make people fall asleep immediately. Welcome the coming of spring with blooming flowers, and the embellishment of local embroidery adds a sense of exquisite detail. This pure cotton home textile series features rich animal and plant scenes, adding an extraordinary artistic atmosphere to the bedroom.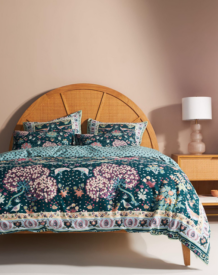 3. This series is launched just at the beginning of the new year. The tablecloth looks like a collage of colorful flowers and plants, with rich patterns in contrast to the strict lattice frame, 100% cotton napkins also match this tone.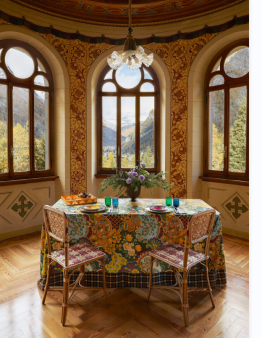 4. These home textile inspired by different natural patterns such as wine coconut, wicker, hazelnut and chestnut bark, a series of natural colors turn things closely related to the outside into a touch of indoor delicacy. These elements are designed into geometric shapes and integrated with carnations, pomegranates and Eucalyptus wreaths, butterflies in Louis XVI. The color matching is biased towards retro colors and the design elements are diverse, which is also an appeal to respect nature and animals. I believe everyone knows the meaning and symbol of carnations. They are usually given to their mother on Mother's day, symbolizing true love, greatness, blessing and family affection. Pomegranate's skin is red and its heart is red, symbolizing the prosperous life and enthusiastic people. Pomegranate has many fruit grains, and the fruit grains are close to each other, just like family members gathering together. It is suitable to give them to family members, relatives and friends as a blessing.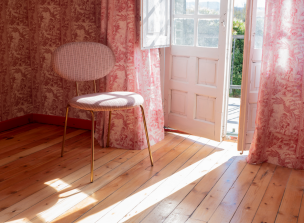 5. The love of Australian native plants and traditional home textiles is inspired by Australia's jungle and its beautiful and unique plants. Made of pure flax, the color system is calendula and vibrant sage green, clay tone. Among them, this print is a tribute to the Grampians in Western Victoria and the oblique leaves of this magnificent tree.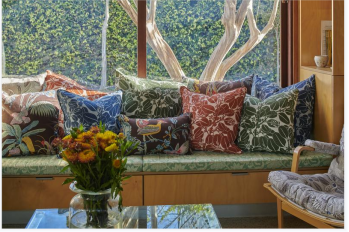 6. Through the cooperation of high-quality materials with well-known and unknown artists from a wide range of fields such as art, design, illustration and technology, we produce unique household textiles. "Kurt" bedding is a tribute to the Dadaism art movement; "Boum" wanders between concrete and abstract. It is a psychedelic return to the popular aesthetics of the 1990s. Through over exposure and out of focus images, designers are pushing reality to the limit and creating new forms of perception. Bright colors and mysterious characters have a feeling of daydreaming and a kaleidoscope illusion; "Pietre" is inspired by watercolor technology. It is a simple and organic form, which is composed of water and floating pigment particles. The name of "pietre" comes from the combination of light sage green, red, earth color and dark blue. This is also a popular home textile classic pattern.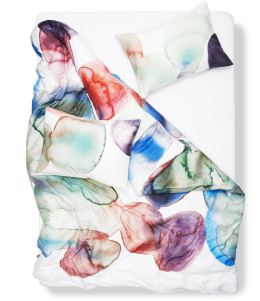 7. This style works directly with skilled craftsmen in remote rural Argentina to produce the best quality hand woven textiles. This series pays tribute to the sun and moon and their expression in art, craft, design and architecture. Drawing inspiration from Bauhaus style design is an exercise in bold colors and architectural forms. With the interpretation of contemporary design, the use of a series of whole and half plates to symbolize the source of energy and light in our solar system is very important to life on earth. The iconic Earth Tone examines contrast and complementary colors, inspired by the interaction of light and shadow during the solar eclipse. For Andean craftsmen and weavers, the circle home textile classic pattern is a new design. They use luxurious and soft sheep wool for hand weaving, and are committed to inheriting the tradition of natural dyes, nature inspired patterns and hand weaving.
8. Drawing inspiration from Nepal's handicraft heritage of home textile classic pattern, we developed a series of wool and cashmere with rich colors and high-quality materials, bringing a series of soft felt household products to the indoor space. In the candy colored carpet, the softness of felt wool, simple and smooth curve lines and color block filling bring an advanced sense to the design, and meet people's pursuit of comfort of home accessories and children's ideas.